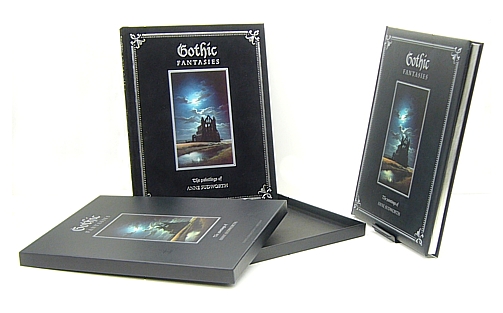 The books available on Anne Sudworth's work are listed below.

Please email your order to us at sales@annesudworth.co.uk
We accept payment via paypal at paypal@annesudworth.co.uk or by cheque made payable to "The Anne Sudworth Studio" and sent to - The Anne Sudworth Studio Art Gallery, 43 Westfield Street, St. Helens, WA10 1QA, UK

For orders outside the UK, please email us to advise of p&p charges. Ordering a number of items may be cheaper.
Gothic Fantasies the Paintings of Anne Sudworth
Hardback

"Gothic Fantasies" the new book on Anne Sudworth's work was published Spring 2007. This much anticipated collection of her paintings is a beautiful and luxurious production with black padded cover and silver-gilt edges. It is a large-format book, 280mm x 220mm, 112 pages with over eighty of her paintings.


Hardback - CURRENTLY OUT OF STOCK


Front cover



Gothic Fantasies the Paintings of Anne Sudworth
Collectors Edition

"Gothic Fantasies" is also available as a special collectors edition of 500. This beautiful book is bound in black suedel with silver embossed writing. It is signed and numbered and comes in a presentation box, accompanied by a certificate of authentication - price £75.00 but direct from us the book is £50.00 (plus p&p).

Special Collectors Edition - price £50.00 (plus £4.50 p&p for UK orders).





Back cover
Enchanted World, the Art of Anne Sudworth
Paperback and Hardback

"Enchanted World" was the first book on Anne Sudworth's work to be published. It contains over 60 of Anne's paintings including some of her early equestrian works, plus a number of sketches, roughs and looser works as well as featuring a painting in progress. The incisive and comprehensive text was written by award winning author John Grant with extensive notes by the artist herself. It was originally published in 2000 by Paper Tiger and is now in its fourth reprint. It is a large-format book, 297mm x 210mm with 112 pages and is available as hardback - price £20.00 and paperback - price £14.99 (plus p&p)..

Paperback - price £14.99 (plus £4.00 p&p for UK orders). Currently out of stock.

Hardback - price £20.00 (plus £4.50 p&p for Uk orders). Currently out of stock.


Front cover


Back cover

Enchanted World, the Art of Anne Sudworth


Collectors Edition

"Enchanted World" is also available as a signed limited edition of 500. This is a cloth bound book with a cloth bound slip case in midnight blue with silver embossed writing. It also contains four prints of work not shown in the normal hardback edition - price £75.00 but direct from us the book is £50.00 (plus p&p).

Special Limited Edition - £50.00 (plus £4.50 p&p for UK orders.)

Collectors Edition
---